* Be sure to check out this month's Tech-Savvy Interpreter video premiering on May 30.
Interpreters, because of the very nature of our job, are usually on the go. We are always working at someone else's office, conference room or conference center. We check email most frequently from a smartphone and spend a lot of time traveling to and from assignments. We also spend a significant amount of time tracking expenses, negotiating working conditions, and reviewing contracts, all usually on the go. Mobility is a big deal.
For years, I would dread returning from an interpreting assignment with a stack of paper receipts that I would need to organize, record and submit to a client for reimbursement. This required that I have a scanner (and for many years a fax machine) in my office taking up space. Reviewing and signing contracts while traveling was another headache.
Then last year, while I was grumbling about having to wait until I got back to my office to scan and send a document, an education technology specialist told me about Genius Scan -- an app that turns your smartphone into a powerful scanner that can scan everything from restaurant receipts to contract signature pages to speech texts on the spot. I've been using it for several months now and Genius Scan has made me more efficient, productive and more importantly, more responsive to clients.
With the introduction of scanning apps, the smartphone has eaten yet another piece of office equipment and, thankfully, freed up some much-needed space in my office. Genius Scan is one of a big wave of scanning apps but it has proven simple to learn and easy to use. In a word, it's not wonky like a lot of similar apps out there.
What Can the App Do?
Genius Scan is available for iOS and Android smartphones. It uses your smartphone's camera to scan whatever images (documents, photos, etc.) you put in front of it. There are free and paid versions of the app. The free version (Genius Scan) provides all scanning features and allows you to send scanned images in .pdf and .jpg formats by email, text message and with other messaging apps loaded on your smartphone, like WhatsApp or Facebook Messenger. The free version also has banner ads at the bottom of the screen -- nothing is truly "free."
The paid version ($7.99, Genius Scan+) provides a lot of additional functionality like automatic direct upload to cloud storage services like Box, iCloud, Evernote, DropBox, Google Drive, OneDrive and others. The paid version also allows you to print directly from your smartphone, encrypt scanned files, and customize automatic file names. On the Apple Store, Genius Scan+ currently comes bundled with Genius Sign -- an app available only for iOS that allows you to insert text, sign and date PDFs from your smartphone.
Both versions allow you to tag scanned files for easy grouping and searching.
Genius Scan uses specialized algorithms to capture, flatten out and enhance the image even if you scan the document at an angle and even if your document is crinkled and doesn't lay flat. The auto enhance feature will detect if the scan is of a black-and-white or color document or a photo and adjust the scan settings accordingly. These settings can also be controlled manually. The app can also determine the edges of the document you are scanning with surprising accuracy, as long as the document is placed on a contrasting surface. No more dead space around smaller scanned documents. However, if you place a restaurant receipt on a white tablecloth, the app struggles to find the edges. If you want the size of your scans to fit standard paper sizes (e.g. US Letter 8.5 X 11, legal 8.5 X 14, or European A4), the app can do that as well.
Figure 1 - Paper receipt on contrasting surface.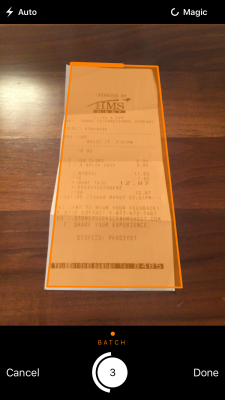 Figure 2 - Genius Scan detects borders of receipt before scanning.
How I Use It
The reason I use this app is simple. It is a time saver and a productivity enhancer. It is also amazingly useful for getting readable scans of last-minute documents that you receive at interpreting assignments that you can then share with colleagues. I have also used the companion Genius Sign app to sign and date contracts for clients while I am on the road.
Genius Scan has proven most useful for keeping track of travel and other reimbursable receipts. Having them upload automatically to my cloud drive with a date and time stamp makes record keeping much easier and saves lots of time when tax time rolls around.
Genius Scan is useful in my online teaching of interpretation as well. Although I use lots of technology to teach, I find I still like to provide detailed feedback on a printed transcript of a speech. Students prefer this as well. In an odd twist, it is faster to provide feedback this way than to type out comments in a Word document. I can quickly scan the annotated transcript and email or text it to a student. Same goes for hand-scored grading rubrics.
Final Thoughts
One important clarification is that Genius Scan does not offer optical character recognition (OCR), so if you are planning on scanning documents so they can be digitized and converted to searchable text, this isn't the app for you. There are other scanning apps available that can do that. But if you need an app that can replace a traditional flatbed scanner to scan receipts, signature pages and any other hard copies of documents you need to convert to PDF, you can't go wrong with this app.
To be sure, Genius Scan is transitional technology. Much of what I use the app for won't be necessary when we transition to a true paperless society and we don't have to collect paper receipts for travel and business expenses. But until then, Genius Scan will remain one of the most used apps on my smartphone.
Do you have a question about a specific technology? Or would you like to learn more about a specific interpreting platform, interpreter console or supporting technology? Send us an email at inquiry@interpretamerica.com.