Stories
Here's something that occurred to me last week. Surely some of you will groan and say: "Really? That's how long it took for him to realize that?" In my defense, at a proud two meters in height I've often claimed to be the tallest, but "fastest" was never part of my repertoire.
About a year ago, terminologist Barbara Inge Karsch and I published a discussion we'd had about terminology and some of the gaps that exist between terminologists and translators. I was particularly pleased with the article because it reflected a true discussion between Barbara and me, one in which I learned a great deal. One point we explored was how terminologists carry out a deep-level QA of the internal integrity of the product they are controlling and forming the terminology for. Non-bridgeable gaps in the terminology point to inherent flaws in the product's design. This is no news for a well-trained terminologist, but it was to me. And only later did I realize that translation does very much the same. Here's how I attempted to articulate this recently in Twitter-speak:
Translation of a product is like a puzzle. If there are puzzle pieces missing or you have to force pieces together, the product is faulty.
I believe this to be absolutely true -- just as true for us translators as for terminologists, and maybe even more so because it happens at a more granular level. Admittedly, it's harder (though not impossible) for the individual translator to see the pieces fall together when you work on very large projects with many other contributors. This perspective might be reserved for the project manager who has the required high-level overview to see whether the puzzle pieces fit or not. But for smaller projects, the individual translator is the one who sees the inherent quality of the product he's translating, and his perspective is rivalled by none.
I've been translating a good number of smartphone apps recently, and these tend to be much more compact, often with the "help" as part of the user interface. As such, part of my delivery has been a quality report of sorts -- not of the translation (which I trusted to be good) but of the original app. Why do I say all this? I've been talking about the need for us as individual translators and larger translation organizations to tell stories about what we do and how we distinguish ourselves from each other, and I believe that this is one such example among many, many possibilities. Telling stories teaches something to the listener, but a good story also teaches the storyteller. Let's find creative ways of telling the world what we do and learn more about ourselves in the process.
And I'm not sure that the following qualifies as a story but it should cheer us all up (I'm not sure of its origin, but I stole it from a tweet by @transGalator):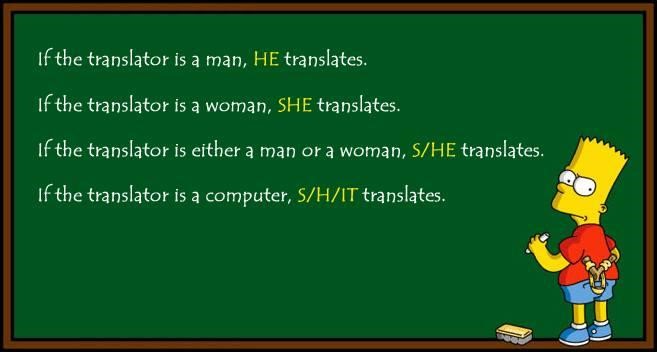 As far as I know, the story of Sovee is unique in the translation world. At its core it's a Christian organization that is particularly interested in Bible translation in languages for which there are no translated Bibles. At the same time it's also an organization that sells access to its translation technology to commercial partners -- and then donates the proceeds to charity through its Covenant Values Foundation. It has pledged to donate a billion dollars in its lifetime.
I recently worked on an article about the history of translation technology in the US for an encyclopedia, and that work has been really eye-opening to me. Unlike in Europe, translation technology developments in the US in the 20th century (and to some degree in the 21st century) have relied greatly on two different groups: the military and religious groups.
The two religious groups that had a particular influence on translation technology here in the US are Wycliffe Bible Translators/SIL, mostly in the area of font development, and the Mormon Church, which has been responsible for many initiatives in machine translation as well as translator-centric tools.
Still, a company like Sovee is unique as far as I can see.
. . . you can find the rest of this really important article (if I may say so myself...) in the premium edition. If you'd like to read more, an annual subscription to the premium edition costs just $25 at www.internationalwriters.com/toolkit. Or you can purchase the new edition of the Translator's Tool Box ebook and receive an annual subscription for free.
ADVERTISEMENT
The Words You Want. Anywhere, Anytime
Let the new WordFinder open a new world of opportunities -- get access to millions of words and translations from the best dictionaries, on your computer, via a web browser, on your smartphone or tablet. Stuffed with lots of smart features. The new WordFinder has what you need as a translator in your everyday work - anywhere, anytime!
Read more at www.wordfinder.com
2. Show Me What You Know!
Here's the deal: If any of you already knows all of the following little tips on how to improve work within your browsers, Windows, and MS Word, and you didn't learn it from one of my recent tweets, make a persuasive case and I'll send you a signed copy of Found in Translation.
Here we go:
Early versions of MS Word (up to 2003) had a DOS/WordPerfect emulation mode that allowed you to change the screen to blue and the font to white (under Tools> Options> General> Blue background, white text). Many used this for proofreading purposes because it offered a new perspective on the text and seemed to illuminate typos. For some reasons it was dropped from Word 2007 on, but in the current Word 2013/365 something similar was silently re-introduced. All you need to do is select View> Read Mode, within the Read mode select View> Page Color> Inverse, and there you are. And now you can put an end to all those craizy typos!
(In OpenOffice and LibreOffice you can find it under Tool> Options> Appearance.)
In Windows's file management application Windows Explorer (from Windows Vista on), it is possible to invoke an extended right-click or context menu if you press the

Shift

key while right-clicking on an item. Of course, the number of added items depends on what you click on (thus "context" menu), but some of the more helpful commands include Open Command Window Here, which opens the Command Prompt window set to the folder you right-clicked on, or Copy as Path, which copies the path of the file or folder to the clipboard.
In MS Word (and OpenOffice/LibreOffice), we've been able to select several items (words, graphics, etc.) at once by holding the

Ctrl

key for quite a while. Once you do that you can either apply the same kind of formatting to all of the items, delete them all, copy them all, etc. You knew that already. What you might not have known is that you can do the same in the web browser Firefox (since version 3). In the browser this is particularly helpful if you want to copy several items at once to paste them into an email, a document, or somewhere else.
And speaking of web browsers: The super-helpful but very much underused shortcut that works in all common browsers (Firefox, IE, Safari, Chrome, and Opera) uses a simple

Ctrl+Click

to open a link in a new tab (rather than replacing the web page you're currently viewing).
You knew all those little tricks already? Send me an email to let me know, swear by the life of your first-born child that you're telling the truth, and I'll send you a signed copy of our book. And for the rest of you: You're welcome for the helpful shortcuts.
ADVERTISEMENT
Celebrating 30 Years of TRADOS
Join us in celebrating TRADOS' 30th anniversary and take a journey "back to the future". To celebrate, we're offering a host of fun activities with an online game, a photo competition and discounts on SDL Trados Studio 2014.
Since its inception as a language service provider in 1984, TRADOS has grown to become the most popular desktop computer assisted translation tool.
3. MS Office Apps
When SDL first started its OpenExchange app store, I really liked the idea but was skeptical that it would find the traction that SDL had hoped. I watched closely for the first few months and felt vindicated -- most of the apps that appeared there were actually developed by SDL itself. But then something slowly happened that I had not anticipated: it actually took off. Today there are more than 100 apps available in the app store -- many of which are free -- and they represent anything from the features that are "missing" from Trados Studio (and other SDL products) to very creative productivity enhancers to just cute look+feel kinds of apps.
It's easy to belittle those numbers when you compare them to numbers in places like the App Store or Google Play, but that's clearly not a helpful comparison. How about comparing the number of apps on SDL's OpenExchange to the number of apps in the Office Store for MS Office 2013/365? Also not a fair comparison? One would think so, but a closer look at Apps for Office reveals a pitiful handful of apps: 36 for Outlook, 130 for Excel, and 156 for Word. Remember? This is the big-time MS Office! And if that doesn't help to put SDL's relatively large number of apps into perspective, I don't know what would.
It was still interesting to look at the Office apps. As one would expect there is a lot of useless stuff to be found, but I liked apps like FontFinder, which categorizes your fonts and allows you to create lists of favorites, or the Wikipedia app that shows Wikipedia results in a sidebar.
There are also a number of language-specific apps. These include the Arabic Authoring Services to help with diacritics and other features in Arabic, a Russian Grammar checker, a Lingvo app for access to Russian and Ukrainian dictionaries (from a variety of languages), the PROMT dictionaries (and MT) for a number of languages, the English Consistency Checker, or a number of language-specific thesauri.
What really caught my attention, though, was an app called nativy translations, named after the Austrian LSP with the same name. The app allows translation clients to get three different bids for the translation of an open document (any kind of Office format) from different translators and editors who are identified by name and with whom the client can directly communicate. I liked the approach of this app for several reasons. It's not a "cheap" service (such as the one offered by the competing app TextMaster), it's clever that you can select a specific translator and communicate with him or her directly (the service itself is still being sold through nativy translations, which acts as an LSP, though), and it's creative -- which is exactly what we need. You and I know that re-packaged web-based machine translation is popping up everywhere (naturally a good number of the apps on the Office app store are MT offerings), but this app stands out as a professional, well-designed, and attractive offering.
I had a chance to talk to Josef Brunner, the CEO of nativy translations, about his app. While it has not been a huge economic success (due to the low overall acceptance of the Office app program), it has been helpful for them to highlight their services and their API, which also plugs into a number of content management systems and -- later this year -- into websites of translators if they so choose. More on that when it's released, but in the meantime I like this example of a translation provider who thought outside the box and was able to tell "his own story" (see the introduction). That's what we all need to do through the many voices and stories that we have.
4. What's your story?

(Enter your story here.)
ADVERTISEMENT
Translation Forum Russia 2014 in Ekaterinburg
Translation Forum Russia, Russia's top language industry conference with a focus on practical issues of interpreting and translation, will be held for the fifth time from September 26-28.
For the first time there will be a GALA Localization Forum as part of the Translation Forum.
Come join us!
Learn more right here.
The Last Word on the Tool Box Journal
If you would like to promote this journal by placing a link on your website, I will in turn mention your website in a future edition of the Tool Box Journal. Just paste the code you find here into the HTML code of your webpage, and the little icon that is displayed on that page with a link to my website will be displayed.
If you are subscribed to this journal with more than one email address, it would be great if you could unsubscribe redundant addresses through the links Constant Contact offers below.
Here are a couple of websites that mentioned the Tool Box Journal recently:
www.signsandsymptomsoftranslation.com
Should you be interested in reprinting one of the articles in this journal for promotional purposes, please contact me for information about pricing.
© 2014 International Writers' Group