It's difficult to identify a tipping point before the tip occurs. I don't claim to have a crystal ball or clairvoyance, but 2017 sure feels like a tipping point for remote interpreting from where I stand. I've been following this market closely since 2011 when InterpretAmerica identified remote interpreting as a force that had huge potential to both expand and disrupt the interpreting profession.
Let me explain what I see. To do so, I'll make use of a familiar analogy -- the four-legged stool. When the stool has all four legs, it is firm, solid, and works well. But remove one or more of the legs, and it becomes unstable, tips over easily, and really isn't good for much.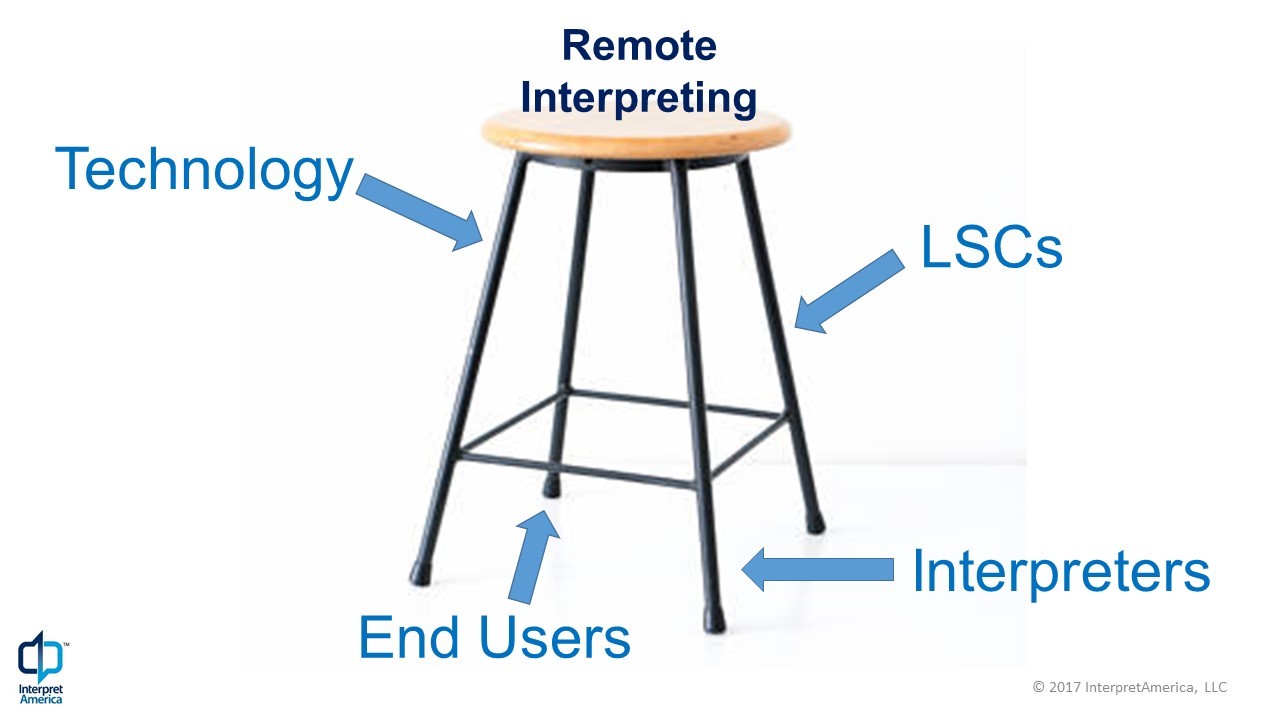 Like the legs of the stool, four elements must be firmly in place for remote interpreting to be sturdy, dependable, and work well. They are: the end users, the technology, the interpreters, and language service companies (LSCs).
End Users
No service provider can exist without customers, and at its core, interpreting is a service. That remains true no matter where or how the service is provided, for whom, or by whom. Without this leg, the other three have no reason to exist, which is why I list this leg first.
Customers, i.e., end users, have been asking -- many clamoring -- for new remote interpreting delivery models for years. In some cases, they want remote interpreting because of shrinking budgets and growing mandates. In others, the current face-to-face interpreting delivery models simply don't provide the service fast or conveniently enough. Finally, end users are asking for interpreting services for virtual meetings that take place online. Traditional delivery models simply are not set up to provide interpreting in these circumstances.
What all this means is that the demand is there for both remote consecutive and simultaneous interpreting. End users both need it and want it.
The Technology
For decades, the technology leg of the remote interpreting stool was either totally absent, unstable, or prohibitively expensive. It was easy to dismiss the idea because we could simply say "the technology just isn't there yet." That is clearly no longer the case. The technology is here and it works. The cost has also come down dramatically. These facts are now forcing interpreters in all settings and specializations to take a long, hard look at how we work and why.
The number of technology offerings for remote interpreting delivery has increased quickly in the last two or three years. This has happened because foundational telecommunications technologies are making high-quality audio and video transmission over the Internet available to anyone with a broadband internet connection and a video and audio enabled endpoint (from a telepresence studio to a smartphone and everything in between). It is as though we now have a blank digital canvas that innovators are designing and creating on with few things constraining what is possible.
In the early stages of this digital wave, it was the outsiders who were trying to disrupt the interpreting space. As the technologies have gotten better and the use cases more specific, remote interpreting startups have sharpened their focus and are gaining traction. But perhaps the most telling development in this area in recent months is the announcement by leading simultaneous interpreting equipment providers that they have launched or are close to launching their own remote interpreting platforms. (See KUDO, launched by MediaVision CEO Fardad Zabetian and the announcement made by Congress Rental Network President Gilles Goudreault earlier this year.) When the incumbents tip their hand, it's a safe bet that the tipping point has arrived or is fast approaching.
The Interpreters
The third -- and most important -- leg of the remote interpreting stool is the interpreters. Remote interpreting has received a cool to outright hostile reception among many practicing interpreters whether in clinics, courtrooms or conference centers. And with good reason in some cases.
The pressure on interpreters comes from several quarters. Interpreting remotely, audio only or with video, requires additional skills and cognitive tasks that take training and practice to obtain. Typically, employers and end users are ignorant of the stress this puts on interpreters, who have to play catchup at a time when very little training is available.
In healthcare interpreting, we are seeing a trend in some hospitals to replace their entire on-site interpreting staff with remote interpreting. Either on-site interpreters are asked to sit in a room in front of a video screen all day or they are summarily fired and a remote interpreting service is brought in. The lack of best practices and guidelines for employers and end users has a real, negative impact on interpreter working conditions in these circumstances.
Finally, remote interpreting requires interpreters to make a sometimes-significant investment in equipment to set up a remote workspace that meets the often-stringent privacy requirements of clients.
In years past, I had observed a generally dismissive attitude regarding remote interpreting. With its increasing penetration into the market, however, that attitude is beginning to evolve into one of concern, curiosity and increasingly, tentative acceptance. Examples of changing attitudes include the last two congresses of the International Federation of Translators (2014 - Man vs. Machine? The Future of Translators, Interpreters and Terminologists, 2017 - Disruption and Diversification); the recent meeting of the AIIC Private Market Sector Committee (PriMS) in Cartagena, Colombia, that revolved around the topic of remote interpreting; and a recent podcast from the Troublesome Terps on remote interpreting. I now see a growing, honest, more even-handed debate of the topic and a possible rapprochement. Standards bodies like ISO/TC37/SC5 and ASTM Committee F43 on Language Services and Products are continuing their deliberations to set standards for different types of remote interpreting.
Though all these developments point toward a reluctant warming up to remote interpreting on the part of interpreters, one thing remains abundantly clear -- no remote interpreting service will be successful without qualified interpreters who are able to do their job in a professional, dignified manner. With few exceptions, the field is currently failing in providing the tools interpreters need to justify the effort and investment needed to make the adjustment to remote interpreting. That is why the interpreter leg of the stool is currently the most unstable.
Language Service Companies
When I originally developed this analogy, the stool had only three legs. I've come to the realization that the stool was missing a vital fourth leg -- language service companies (LSCs). They most often function as intermediaries between end clients and service providers. offering a valuable service to both end user and interpreter. This is a role that is only growing in importance as the frequency and number of interpreted interactions increases, the duration of these interactions becomes shorter, and the number of language combinations multiplies. It is unrealistic to expect individual interpreters to handle the logistics of such complex interactions or to expect large end users to maintain individual contact with interpreters in every language combination they require.
Savvy LSCs are developing the workflows and delivery platforms needed to provide the organizational and administrative services and the technological platforms that match the right interpreter with the right end user quickly and efficiently. Because of this, the role of LSCs in the remote interpreting space is likely only to grow.
That said, enterprising interpreters have and will continue to develop direct relationships with key end users of their services. This will likely be the case in the remote interpreting space as well, but the cadre of interpreters with direct clients will be small.
InterpretAmerica 6: Bringing the Stakeholders Together
Remote interpreting is moving forward and being adopted by more and more end users. The pace of this change is astonishing. There are examples of implementations of remote interpreting that have gone terribly wrong and others that are going right and are expanding access to this vital linguistic service.
However, the rollout of remote interpreting services in many instances is taking place with few to any guidelines at all, and interpreters are feeling the pressure. This is why InterpretAmerica has issued a call to action to all parties that have a stake in remote interpreting. On October 30, 2017, InterpretAmerica will convene its sixth Summit (You can learn more about InterpretAmerica 6 here). This one-day working meeting will convene (on-site and online), interpreters, professional association leaders, industry leaders, technology developers and end users in pursuit of an ambitious goal: to put into motion a credible process for the creation and implementation of best practices for remote interpreting - across all interpreting specializations and stakeholder groups.
Registration opens on September 18, 2017. Given the working format of the Summit, registration will be limited to 50 participants on-site and 80 participants online. However, a livestream of the two Summit plenary sessions will be available to a larger audience. On-site and online participation will be very similar with the exception that online participants won't be able to join on-site participants for lunch in DC. That aside, all participants will be engaged in the same tasks and meetings.
By working together, all remote interpreting stakeholders can contribute to making that four-legged stool sturdy, dependable and work well for everyone involved. I hope you'll join us!
Do you have a question about a specific technology? Or would you like to learn more about a specific interpreting platform, interpreter console or supporting technology? Send us an email at inquiry@interpretamerica.com.