crossMarket Premium: Boost Your Productivity
The online network for all Across users brings together translation service providers and buyers. Become a premium member and benefit from unlimited possibilities to find and contact potential customers.
For prices and a list of all premium features, visit www.crossmarket.net
1. Where Art Thou? (Premium Edition)
Over the years I have reported on a number of tools because I was contacted by the developers behind the tools or our paths crossed in some other way. But unlike the tools that I continue to talk about, including translation environment tools, Windows, and general productivity tools, many are never mentioned again. So the question beckons: Did I just overlook any kind of worthwhile development after I first reported on the tools, or was there truly nothing that happened? Or did the tool or technology actually meet its demise?
In the last few weeks I've been writing about possibilities that are presenting themselves to us, including our own possibilities to participate in development -- if we only look hard enough. Many of the tools and technologies listed below were developed by translators. Some were successful (whatever that means) and others were not (again, whatever that means). So you could take all this as a case study of whether it's reasonable to step out of your comfort zone or not.
Here is the list of tools. I'll start with the one that has been in the news the most lately and end with the one with the most shocking demise. The ones in between are randomly listed.
. . . you can find the rest of this article in the premium edition. If you'd like to read more, an annual subscription to the premium edition costs just $25 at www.internationalwriters.com/toolkit. Or you can purchase the new edition of the Translator's Tool Box ebook
and receive an annual subscription for free. Once you have a subscription, you can also access the full archive of the Tool Box Journal Premium edition going back to 2007.
ADVERTISEMENT
MateCat. More matches than any other CAT.
Translate in the cloud, faster than with any other CAT tool.
Supporting over 60 file formats and now also Google Drive files.
2. Making community Open Source work for LSPs (column by Marc Mittag, MittagQI)
Since I entered the language industry in 2002, I have observed two major trends: Word-prices on the market are under pressure. And the involvement of IT in translation processes is on the increase. Both trends are increasingly accelerating in recent years.
Yet another trend has also recently become apparent, however: The big LSPs in the market are trying to take control of translation processes through technology. They are trying to own the process -- and thus make suppliers and customers dependent on them.
All three developments are interconnected: Building their own technology enables the big players to control the processes and keep the pressure on prices. Thus they are making it more and more difficult for small and medium-sized LSPs to stay profitable -- and to keep their independence. Without their own control over the processes, these LSPs tend to become mere pawns of the big LSPs, with the danger of being kicked out of the market.
This is especially true for single and regional language vendors. But it is true as well for smaller multi language vendors (MLVs) who simply cannot afford to invest as much in IT as the big ones. So these smaller MLVs are not and will not be able to compete with the big ones in efficiency, in the new upcoming technical trends (like automatic linguistic quality checks, self-learning MT, or business analytics for translation processes and quality), and in setting up specialized processes for their customers.
As I perceive it, to cope with these trends, small and mid-sized LSPs have to invest in IT and thus be able to compete and stay independent and profitable. They have to own their software -- instead of owning licenses.
Of course, these LSPs cannot afford to do all of this on their own. They must cooperate with others. Yet this is no handicap: Analyses show that many of the most successful companies are those who cooperate with their competitors.
This leads me to the main topic: To cooperate between competitors on IT, you need an easy solution from an organizational and legal point of view. This is exactly what open source is made for and has served for numerous times (some of the most well-known examples are widespread open source content management systems like Wordpress and Drupal).
There are a lot of community open source projects out there in the language industry: Okapi, OmegaT, translate5, OpenTM2, Translate Toolkit, and Moses, to name but a few. If you add up the functionality of these tools, you get a relatively complete picture of what you need for professional translations. Yet there is no open source tool that is complete or modern enough to be used as a major production tool in today's LSPs.
In summary, we have a need for LSPs to cooperate on software, we have open source as a good model for that, and we have a number of existing open source tools for different areas of our business. But still there has been no major cooperative software effort among LSPs to put together the different open source pieces into a comprehensive system usable by end-users.
A major reason for this is simply that cooperation is built on trust and expertise. To create trust between competing LSPs who want to cooperate on IT, you need a neutral party, a party that has high technical competence, is NOT an LSP itself (or affiliated with one), and is not subject to political discussions. A party that will put their whole heart in the matter and thrive on helping opponents cooperate, someone who is not purely idealistic about open source but also has a business case in supporting it, developing it, and organizing the development that others contribute to. This is highly needed in professional open source usage because it ensures that companies using the software will have a partner who cares for their development and support needs on a business level.
This is what we at MittagQI have made our mission and vision for our company. It's about helping small and mid-sized LSPs to develop the software they need through cooperation with others.
The vision of realizing community open source in the translation industry is gaining momentum due to the engagement of many people and companies:
Last fall IBM finally released

OpenTM2

to the public in the same version they use internally and are updating on a regular base.
A

crowdfunding for an open source translation system

has been set up. The current and first funding effort aims to integrate

translate5

,

OpenTM2

, and

Moses

-based MT systems. The result will be an easily extendable, open source web-based platform for translation, proofreading, and postediting that includes TM- and MT-integration and supports multiple users, roles, and simple workflows.
The first phase of this crowdfunding just recently successfully raised € 21,000 from seven different companies:

beo

,

Lexitech

, and

Supertext

(GOLD supporters);

oneword

(SILVER supporter);

IOLAR

and

Globalese

(BRONZE supporters); and

Locasoft

(supporter). This is enough to complete the developments of the translate5-specific components and the

Moses

integration. The next phase of the funding now aims to raise another € 15,000 needed for the OpenTM2-specific components.
Examples of next steps include integrating Okapi for file format conversion and quality checking -- and everything the companies using it need and propose.
Every interested company or individual is highly welcomed to engage and contribute their ideas. Only with the engagement of as many companies and individuals as possible will this vision be realized. This can be done by using the community platforms of OpenTM2 or translate5, directly engaging in the crowdfunding, or by contacting MittagQI.
A next major opportunity for the language industry to connect and exchange about community open source and the coordination of projects and companies will be the Community Open Source track at the German Localization Unconference. This unconference takes place on June 23 and 24 at the SAP offices in Dezernat 16 in Heidelberg.
ADVERTISEMENT
Tell us your great ideas for SDL Trados Studio 2015 and you could win €500
Have you ever had a fantastic idea for a new feature in SDL Trados Studio 2015? Tell us what you'd like to see developed as an app on the SDL AppStore for a chance to win €500 and let us make your idea a reality!
ADVERTISEMENT
No more downtime -- memoQ support goes 24!
All around the clock -- all around the globe . . .
3. Caffeinated, User-Centric Development
I've written about CafeTran Espresso a good number of times before as an extremely feature-rich but inexpensive translation environment tool that is run by a developer who is very, very eager to please. The following is a really great illustration of this.
One of the most difficult formats to translate is computer-aided design (CAD) files. While many translators could not care less (i.e., are never confronted with these files), those that do, really do. The leading CAD tool, AutoCAD, is hideously expensive, even with its current subscription plan (vs. the old licensing plan), which makes tools like the otherwise great TransTools for Autocad or DwgTextTranslator difficult to use since you have to have a version of AutoCAD on your machine.
TranslateCAD is an inexpensive and easy-to-use tool for DXF files (the CAD file exchange format), but it does not allow any selection of what needs to be translated. And other computer-assisted translation tools, including CafeTran Espresso, Across, and Star Transit, do support AutoCAD files but did not or only on a limited basis allow for a selection process of which layers to translate in a CAD file (an important feature since the majority of the text elements within a CAD file are untranslatables that you don't want to have displayed to you in the translation process).
An LSP that I've been consulting with for a number of years frequently works with engineering-heavy texts and therefore many CAD files and had struggled with those for a number of years. During my last visit, we looked at the available options, decided that none really was perfect for their needs, and then decided to contact Igor, the developer behind CafeTran Espresso. We described to him what the problem was, what was needed and by when, and in return for his development the LSP committed to support him as much as possible during the development, promising to purchase a number of licenses if the development were finished successfully.
Long story short: It took two conference calls, about a week for Igor to implement it with the very proactive help of one my client's main users, and the solution was introduced into the latest version of CafeTran Espresso a week or so ago (for all to use, and, yes, you're very welcome).
So now, once you select a DXF file and open Project configuration, you can select Filter options and then choose only the Filter layers that need to be translated.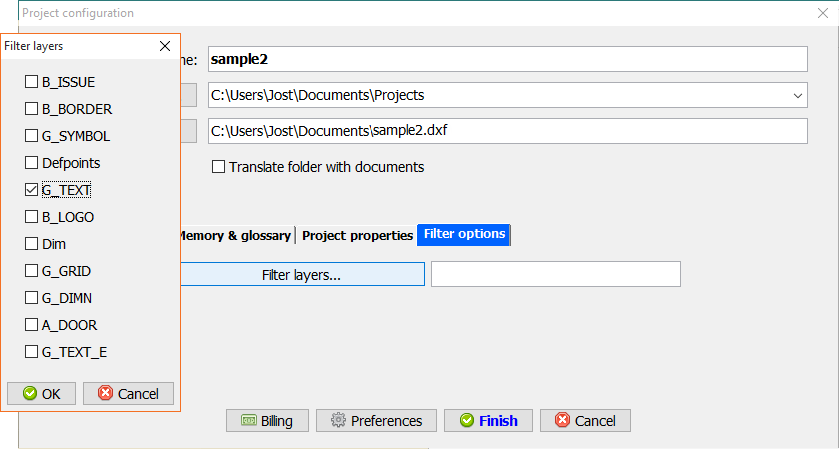 It works completely seamlessly, and for those who work with CAD files a lot, this is a true godsend. Plus, CafeTran Espresso is inexpensive enough that it even pays to use it only for this particular file format (if you choose to use another translation environment tool).
Yes, you guessed it, I really love this story. It's exactly how it should be. Now, I know that CafeTran Espresso is not the only tool that has ever done anything like this. Most every developer has one or many stories like that to tell. But since I just stumbled on this one, it seemed a good one to share.
The moral of the story: TALK TO YOUR VENDORS AND DEVELOPERS!
ADVERTISEMENT
Memsource news:
4. The Tech-Savvy Interpreter: VoiceBoxer -- The Multilingual Webinar Platform I Always Knew Was Possible (Column by Barry Slaughter Olsen)
This month's edition of the Tech-Savvy Interpreter includes a bonus video of the VoiceBoxer interpreter interface. Don't miss it!)
Last month, we discussed remote simultaneous interpretation for multilingual virtual meetings, which are occupying a growing part of the online meetings space. This installment of the Tech-Savvy Interpreter gets back to technology show-and-tell by taking a look at VoiceBoxer, a relatively new multilingual web platform for presentations and webinars. Think GoToWebinar, but with built-in capabilities to connect professional remote simultaneous interpreters -- something long overdue.
Launched in May 2015, VoiceBoxer has built a sleek, well-designed platform that works well for multilingual webinars with remote simultaneous interpretation. The platform recreates the large conference or keynote speaker experience in the virtual space where one speaker presents to many listeners and interaction is usually limited to a short question and answer session at the end of a presentation, which in the case of VoiceBoxer is done through a multilingual chat window (more on that in the video).
Since its commercial launch one year ago (Happy birthday, VoiceBoxer, by the way!), they have hosted over 200 webinars and presentations on their platform. Their most frequently requested language combinations are currently English paired with Spanish, French, Arabic, and Russian. (To anyone reading this in Asia, I see an opportunity for Mandarin, Korean, and Japanese here.)
VoiceBoxer's Copenhagen-based team of designers and engineers has done its homework to truly understand what interpreters need to do their job remotely. The interpreter interface has been well thought out and includes what many consider a must-have when working remotely -- a video feed of the presenter. The interface also includes a view of the slides, which is controlled by the presenter. One cool feature is that if the slides have been pre-translated into the working languages of the webinar, the different language versions can be uploaded to the platform so that participants see the slides in their preferred language. This makes for a more enjoyable experience for the participants, as they don't have to stare at slides in a language they don't understand. Interpreters see the slides in the language that they are interpreting into.
Arguably, the most difficult aspect of working remotely as a simultaneous interpreter is switching off with your virtual booth mate who could literally be located anywhere in the world. In an effort to make the switch between interpreters as seamless as possible, VoiceBoxer has included three different features: a closed chat channel for interpreters who are working together in the same virtual booth, independent volume control of the presenter and of the other interpreter, and a process for informing the idle interpreter that the working interpreter is ready to switch.
This last one is a little complex, so let me try to explain. As the working interpreter reaches the end of their turn, they request a switch by clicking on a hand icon on the interface. This sends a signal to the idle interpreter that the working interpreter is ready to switch. The idle interpreter then accepts the request. The working interpreter receives a message that the idle interpreter is ready and can then find the appropriate moment to stop interpreting, knowing that their booth mate is listening and ready to pick up where they left off. I know, it sounds complex, but coordinating the switch between interpreters, whether they are physically in the same space or not, is a careful and intricate dance that requires coordination and practice. I honestly don't think that any remote interpreting platform has designed the perfect switching mechanism yet.
It is important to note that if the working interpreter is unexpectedly disconnected, the idle interpreter is notified to take the mic. And I know that this matters because I have had to do it during a couple of virtual interpreting assignments in the past. That said, there are other circumstances -- e.g., microphone problems, a sudden slowdown in Internet speed causing packet loss, or a fire alarm (yes, it has happened) -- where the idle interpreter may need to take over proactively without going through this complex set of steps.
The interface also includes a message at the bottom of the screen that clearly states "Interpreting from: language X to language Y." Keep in mind that the channel the interpreter works into switches automatically based on the speaker's language channel when they are given the floor, so all the interpreter has to do is begin interpreting into the other language. But frequently switching directions isn't too much of a consideration since the platform is currently designed for interpreting presentations and webinars, not highly interactive meetings with a lot of back and forth between participants who speak different languages.
The developers have also included a "slow-down" button on the interpreter interface, similar to those that have been included on many physical interpreter consoles over the years. Based on my personal experience, in face-to-face meetings these buttons never really helped and often were not even set up to function correctly during a meeting. In a virtual setting, however, a slow-down reminder flashing on the presenter's screen may well be enough to remind him/her to slow down because the presenter is looking at the screen where the message appears as they present.
To work on VoiceBoxer, an interpreter needs a computer with the Google Chrome browser installed, a quality headset that plugs into the computer, a wired broadband internet connection, and a quiet place to work like a home office. The VoiceBoxer platform now runs on WebRTC, which allows the interpreter interface to run entirely within the web browser. No need to download and install software, which is a huge benefit of this new web-based technology. It also means you can use either PC or Mac.
Like any other tech developer, VoiceBoxer has to walk a fine line between keeping the platform simple enough so that it is largely intuitive and easy to use but also powerful enough that it meets the interpreters' needs in this new virtual work environment. Be sure to check out this short bonus video I have recorded that shows the VoiceBoxer interpreter interface in detail.
There have been several attempts over the last few years to build, roll out, and commercialize web-based remote interpreting platforms. The VoiceBoxer team has done its homework and learned from the mistakes of others. They are focusing on a couple of specific use cases rather than trying to be all things to all clients. They are engaging the interpreting community actively and addressing the needs and concerns of interpreters. And they are addressing a market need that for too long has been poorly covered by inadequate, cobbled-together solutions when clients need simultaneous interpretation for webinars and web meetings. That's a winning combination in my book. I always knew a multilingual webinar platform like this was possible. Kudos to the VoiceBoxer team for making it a reality.
Do you have a question about a specific technology? Or would you like to learn more about a specific interpreting platform, interpreter console or supporting technology? Send us an email at inquiry@interpretamerica.com.
ADVERTISEMENT
Already speak Spanish? Here's an easy way to start learning Portuguese...
Visit the Sound Brazilian blog for quick and easy tips for speakers of Spanish who are learning, or would like to learn, Brazilian Portuguese. New tips posted with audio files every week.
The Last Word on the Tool Box Journal
If you would like to promote this journal by placing a link on your website, I will in turn mention your website in a future edition of the Tool Box Journal. Just paste the code you find here into the HTML code of your webpage, and the little icon that is displayed on that page with a link to my website will be displayed.
You can subscribe to and view the Japanese and Korean versions of the Tool Box Journal right here.
If you are subscribed to this journal with more than one email address, it would be great if you could unsubscribe redundant addresses through the links Constant Contact offers below.
Should you be interested in reprinting one of the articles in this journal for promotional purposes, please contact me for information about pricing.
© 2016 International Writers' Group